I am having a problem trying to pull 4th gear on my standard 75 Vega. I have checked ignition. the top end is in good condition and the carburretor has been cleaned. Gearing is standard the only thing I think it could be is the exhaust? I have burnt the carbon out with a gas torch and airline which improved things a bit however the baffle is loose inside. Incidentally I live in a flat area and weigh 15 stone. Any ideas?
Tired clutch, fuel starvation, H.T lead cap and plug breaking down under pressure, plug gap, worn points.
Does the carb open fully? Cables can stretch as i'm sure you know. Blocked air filter.




Posts

: 751


Join date

: 2010-06-26


Age

: 56


Location

: No 20 on Moonage Daydream Harrogate n.yorks



I have replaced the exhaust and this made little difference the only thing that has made a difference was the use of a standard air filter. However any very small gradient requires use of third gear and generally power seems very poor.

The carb is completely standard and appears to require the exact amount of air provided by the standard air intake. Is this what other owners have found?
I have moved on a bit with performance and found the standard Vega set up to be a very sensitive balance. Through fine tuning timing, squish and air intake volume I have been able improve performance. Although I have owned series 3 Lambretta's for 34 years I have certainly learnt more this year that the standard Vega 75 engine is much more finely balanced.

Incidentally has anyone tried a 2.75 tyre on the back wheel. I have tried this and it certainly reduces the gearing and makes fourth gear more responsive although you lose a little on top end.
...i changed exhausts a while back to do some welding...i lost quite a bit of performance and swopped it straight back.
..get the 60s performance tuning manual and start working your way through it...
air box mod' is a good one to start with...
..vegatronic is a worth while up grade...followed by alloy kit etc etc..£££...enjoy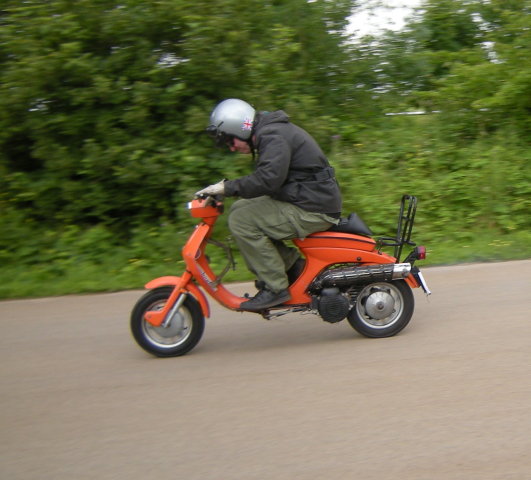 Posts

: 94


Join date

: 2012-04-17




---
Permissions in this forum:
You
cannot
reply to topics in this forum