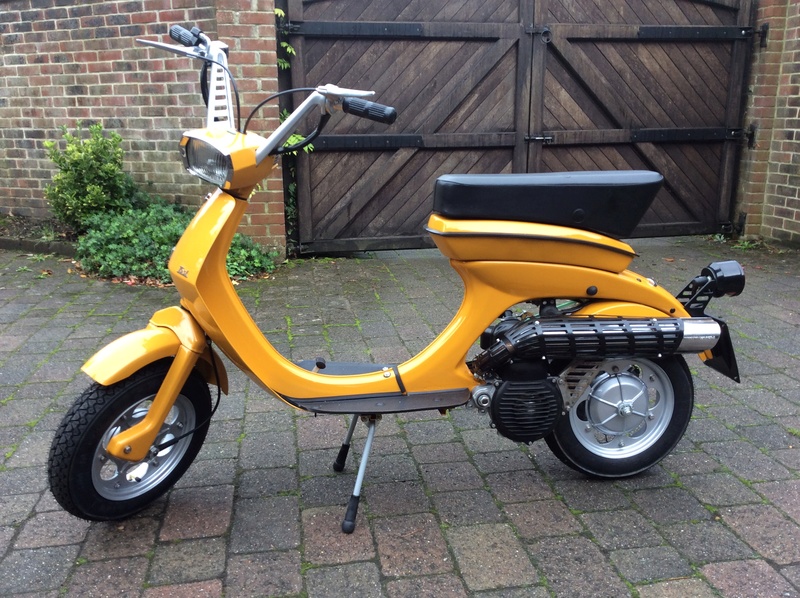 Im hoping this will work as I've struggled to post pictures before!
I've tried advertising this on Facebook but the only interest I've had is from people miles away.
It's a 1968 Cometa with a standard 75cc Vega engine. Fully restored by me from a bare metal full nuts and bolts base. I've been saving up all my best bits for this build and largely speaking it was in excellent shape to start with. The not quite so good bits; the silencer is sound but the chrome is not perfect (looks ok though). The speedo is Veglia but hasn't got the Innocenti logo. The rear light is a pattern part. Brand new but very slightly a different shape. The light bracket is genuine though. The brand new Casa headlight rim is not the best fit. Other than that it's very nice! It's just that I want to be up front with everything.
Price £2750. Situated Surrey/Hants/Sussex borders.
Can someone tell me why this is not sold yet? I think the price is reasonable. The only enquiries I've had have been from too far away. Any thoughts? I'd love to sell it to make room for another project. If I could display it in the living room believe me I'd be keeping it!
Your scooter looks mint Paul!
For what it is worth, I'd guess the price you ask would be close (probably under) a LCGB valuation! But it is a lot of money, it would buy lots of stuff, it's half the price of my car!
I do wonder where you are advertising? I would suggest here is not the best place to sell as I would guess most members already have Luna's and want to get & share tips, show their scooters, maybe source parts etc. Much as I would love a completed scooter such as yours, I'd only buy a project if I were to get snother. I guess this would be true for many on here.
I've not seen your scooter on eBay, Luna facebook, lcgb forum etc. !




Posts

: 186


Join date

: 2014-12-01



Thanks for your comments. It has been on Luna Facebook several times. I don't use EBay. I might try LCGB as I'm a long time member.
I do suspect that many LCGB forum members may also be more interested in 'fixer uppers' than finished articles but worth a try, especially as it costs nothing.

I have seen quite a few scooters in high end car dealerships of late; the Jaguar garage near my mum seams to sell several expensive but not great scooters. I have no idea why, how, where they get the scooters from but guess they both make some money & like having classic scooters parked amongst the Jags. I have thought that if my wife (or circumstance) forces me to sell 1, I'd try one of these & a sign at a classic bike / car show.



Posts

: 186


Join date

: 2014-12-01



I do think think people like a project as Mike says - mad though that is as you end up spending more that way!

For the price of the scoot you could get two of my cars, but I think that says more about my taste in cars and how much of a cheap skate I am rather than Paul's price.

The other thought I had is some advice from an estate agent I got once - you never want to be improve your house so much so that its at the top end of the bracket that your type of house goes for in that location etc as people wont buy it. I kind of think that this is whats happened. The scoot is really really nice but its priced at the top of the ceiling of what Vegas go for, and deservedly so.



Posts

: 894


Join date

: 2010-06-28


Age

: 47


Location

: Luna Base Alpha




---
Permissions in this forum:
You
cannot
reply to topics in this forum